Stages Of A SIP Build Project
Each and every one of us has a different idea of what makes a perfect home.
Stages Of A SIP Build Project | To give you an insight into self building with SIP Build UK, we have put together a step by step guide of the stages involved in building your new home.
(Please use this guide responsibly. This guide is only indicative of the stages and actual process may vary)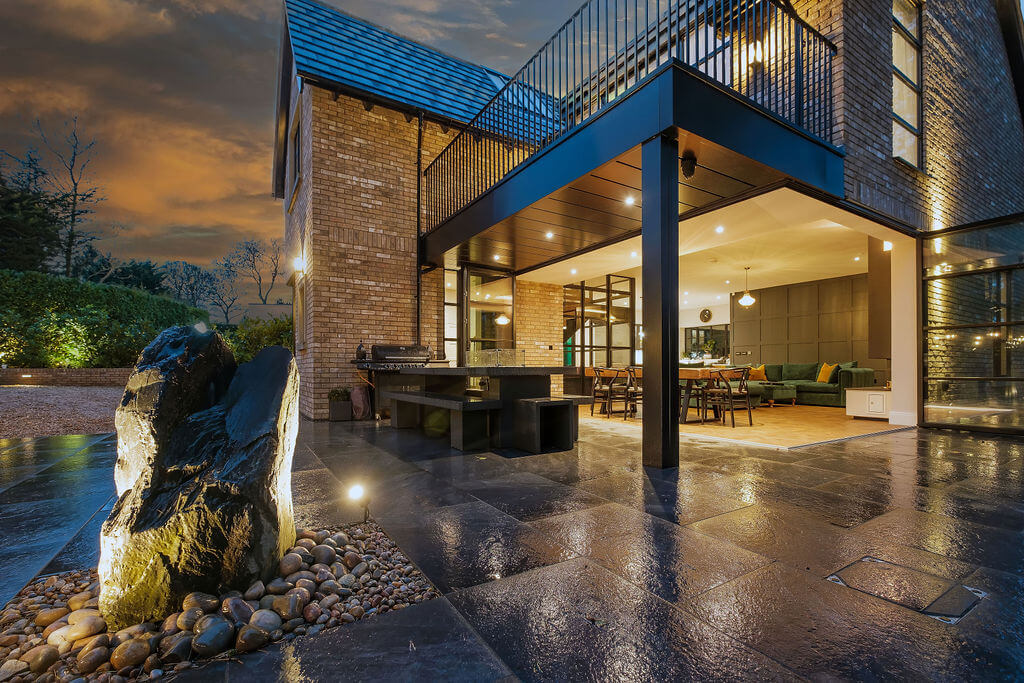 Preliminaries
Ensure your Building Regulation application has been lodged
Arrange necessary site and structural insurances we guide you in the right direction of who to contact.
Health and Safety
Provide proper toilet facilities – we recommend that you use facilities that are maintained weekly by the supplier (you don't need to worry about this too !)
Ensure that members of the public are kept off your site by providing temporary fencing.
Storage
If you have no secure storage available, a lockable store for tools and equipment is worth considering
Entrance and Access
Hardcore may be needed for easy access to your site / crane hard standing
Water and Electricity Supply
Water is essential: where will you find yours on site ?
Heavy duty tools need electricity: you may need to arrange for a temporary supply or hire a generator (you may also need a transformer for 110 volts)
Space Planning
Arrange delivery of materials to come in phases to avoid overcrowding the site
Also consider space for a skip
2. Working With Sub-Contractors
Always remember that an 'estimate' is not a quotation and you should obtain a written quotation since this is a fixed, binding figure and should define the scope of the works to be completed
With the large majority of trades, you should obtain quotations for 'Labour and Materials', unless you have a specific reason not to do so. An example of an exception to this is brickwork, which is almost always 'Labour' only
Always check with each subcontractor exactly what is included and what is excluded from their package
You may need to provide materials for some subcontract trades. Ensure these are ordered in good time
Don't forget to check they have the correct insurances in place!!
Setting Out

It is essential that your foundations are correctly located on your plot in accordance with your planning approval
Foundations

It is our recommendation that the foundations are purpose designed for each individual dwelling
Survey the ground conditions to establish the best foundation method for your site
Structural Floor, Insulation and Floor Finishes
Structural floor or SSL generally refers to the structural ground floor upon which the SIP structure will be constructed and which will receive the final floor finish
Building Regulations require the use of insulation in the ground floor
Drainage
It is advisable to consult your Ground worker about the timing of drainage installation
Always choose and agree a price with a qualified, recommended scaffolder
Internal features may also require additional scaffolding, such as vaulted ceilings and galleried hallways
It is advisable to lay a hardcore strip around the outside of your house in order to provide a firm base for scaffold. A scaffolder is not obliged to erect a scaffold if he considers the ground to be unsuitable. This could cause unnecessary delays
No one should be allowed on the scaffolding until it is complete and a certificate issued (by the scaffolder)
Erection Service
It is essential that the groundwork is complete and checked for accuracy prior to delivery
Sole Plates
It is essential that the timber sole plates are accurately laid. Any faults at this stage will be magnified as each storey is erected
Structural Post and Beams
These create the structural aisle frame internal load bearing superstructure
Panels
These will make up the internal and external walls of your home
Intermediate Floors
These comprise of joists, deck and beams as applicable
Roof Structure
Typically comprises of structural components such as Glulam beams, SIP Panels or in some occasions trusses, rafters, purlins and bracing.
First Fix Carpentry
With a SIP structure loose timbers (noggins) that are typically required in vast quantities in other build types are greatly reduced in a Sip structure. Any that are required should be fixed by your carpenter to support electrical sockets, plasterboard, kitchen units etc.
Try to fix all window sill boards from underneath at this stage; they can quite easily be screwed, thereby avoiding any holes and filling on the top face
1st Fix Plumbing and Electrical Services
The installation of all cabling and pipe work
It is essential that cutting / drilling of the SIP structure be carried out in strict accord with the SIP Build UK Construction Details. MAKE SURE YOUR CONTRACTOR IS AWARE!
Liaison with your electrician, plumber, kitchen and sanitary ware supplier is essential to ensure correct provision of timber supports
Ensure that electrical box supports are fitted in accordance with the building regulations
By choosing your SIP home we will have dealt with the external insulation requirements.
Thermal / Acoustic Insulation
It is the responsibility of the builder or project manager to provide insulation to all areas in accordance with the SAP and thermal calculations
No gaps should exist around insulation in walls, ceilings and roofs NOT A PROBLEM WITH SIPS
If insulation is broken or is poorly fitted between studs, ceiling joists or roof joists, permitting a gap at sides or ends, thermal and acoustic performance can be adversely affected – NOT A PROBLEM WITH SIPS
To meet Building Regulations, walls around all bathrooms and WC's, including soil stacks, should be fully insulated
"Drylining is a relatively dry process compared with traditional plastering"
Fixing
Plasterboard used on walls and ceilings is an internal finish which is a fundamental structural element offering an appropriate degree of fire and acoustic performance. Plasterboard must be fixed in accordance with manufacturer's recommendations, usually by screw fixing directly to battens that you install to the SIP panels and or directly to the timber internal walls.
The joints should then be taped, filled and smoothed.
Plasterboard for walls should be taper edged for a taped and jointed system, but for ceilings can be either taper edged or square edged dependent on the final decorative finish.
Storage

Storage of plasterboard must adhere to the manufacturer's instructions. Care must be taken not to overload upper floors. It is not advisable to put any more than 12-14 sheets of 12.5mm plasterboard in any one stack
Brick
Stone
Render
Timber
Zinc
Tiles
Rainscreen claddings
Roof Finishes
Tiles
Interlocking concrete tiles are large format and are generally the most cost effective
Plain tiles may be concrete or clay and they cover an average of sixty to the square metre, and so have a consequential increased labour cost. Plain tiles are often used for tile hanging
Slate
May be stone, quarried slate or man-made
Man-made slates are available and are made from either fibre and cement or moulded with a mixture of slate dust and glass fibre resin
Fixing
SIP Build UK houses can accommodate most types of roof covering. If you intend to use natural or man-made slate it is important that details are agreed prior to the structure construction
Tiled roofs will require nailing according to the exposure rating and the manufacturer's recommendations
As soon as the tilers have finished, decorate the facia and fix the guttering prior to the scaffolding coming down
Stairs
Skirting / Architraves
Doors (Internal and External) and door furniture
Door linings and associated requirements
Take time to familiarise yourself with the contents of your particular SIP Build UK package
Second Fix
Works to be carried out include the following:
Hanging of all external doors complete with locks and fittings.
Hanging of all internal doors, skirtings, architraves and fittings
Assembling the staircase, handrails and balustrading
Installing loft hatch
Additional Tasks
There are other tasks that the carpenters are often called upon to carry out as extras to the above:
Fitting of kitchen units and fitted bedroom or bathroom furniture
Boxing in of soil pipes and waste runs
Laying decorative timber floors
Carpenters/joiners will usually work on a labour only basis so all the materials and fixings will have to be supplied by you.
"These are to be completed by others to finish off your new home"
2nd Fix Electrics
The installation of power points, lighting and switches in accordance with the appropriate regulations
Connection to the mains supply and testing
Before completion of the project a copy of an electrical installation certificate should be issued by your electrician
Remember that the Electricity Board will not connect unless all wiring is complete. If necessary, fit a bayonet point to those bare wires that are "just waiting for a fitting".
2nd Fix Plumbing
The installation of the sanitary ware, radiators, boiler and rainwater goods etc. This will also include commissioning and the issuing of certificates for Building Control approval. In most cases your plumber will fix the rainwater goods, e.g. guttering and down pipes, as part of his second fix work
Don't forget to give services (water, gas and electricity) plenty of notice of your requirements and timing for connection.
Decoration

"This trade is usually labour only with the decorator providing most of their own tools including brushes, sandpaper and fillers"
SIP Build UK timber windows and door frames are supplied with a protective base coat, suitable for receiving either paint or stain decoration
It is essential to complete final decoration as soon as possible, and in accordance with the chosen manufacturer's instructions
Internal Joinery
Stairs, internal doors, skirtings, architraves, door studs and linings can be finished in any proprietary stain or paint to suit your chosen colour scheme.
Preparation is two thirds of a decorator's job and it is worth spending time to do this properly
It is important that work is carried out in a clean and dust free environment
Allow plenty of time for the inside to dry out before decorating
"Hard and soft landscaping"
Regulatory Requirements
The approach to a building from the boundary should be designed to allow access for the disabled. This is set out in the Building Regulations. Ramps will be required for the main point of access to the house. Normally steps are not allowed except on steeply sloping sites
Many local authorities refuse to issue a completion certificate until such time as a proper driveway is installed. They may also insist on pathways, including disabled access and bin stores being completed